Note
To use this feature, your AIM Manager must be running 4.8 or above and the transmitters and receivers on 4.6 or above
ALIF4000 units must be running 4.0 or above and AIM v4.12 or above
Infinity receivers with dual network ports (copper and SFP) can be configured to support a local Infinity transmitter. The purpose of which is to allow you to connect a local host to the receiver, but is isolated from the main Infinity network. The models that support this feature are the ALIF1002R, ALIF2000R, ALIF2020R and ALIF4021R.

Instructions
Make sure that the transmitter which is being connected locally to the receiver, is in a factory reset condition.
The receiver must have have Allow Local Feed Through enabled on its configuration page.
The network port on the receiver where the transmitter is connected, must not have an IP address assigned. In the screenshot below, the local transmitter is connected to the SFP port so no IP address has been set.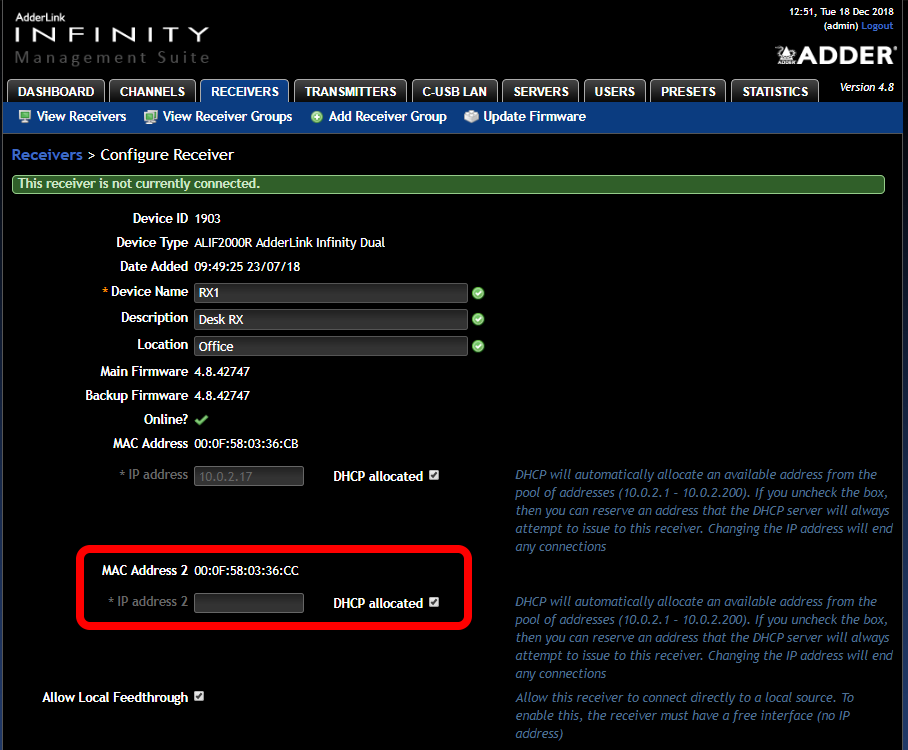 To switch the receiver to the local transmitter, press CTRL+ALT+L (default).
To switch the receiver back to the network transmitters, press CTRL+ALT+C (default) to raise the OSD.