Note
When an Endpoint is under the control of AIM, it is the AIM that manages its configuration and can upgrade its firmware. The web interface on the endpoint will only show you basic information such as its IP addresses and firmware version. No configuration is possible in this mode.

Reasons for making a direct connection to an Endpoint: -
For configuring a Transmitter and Receiver point to point (without an AIM Manager) over a network
As above, however configuring more than one Receiver to connect a single Transmitter over a network without an AIM Manager.

The first step to connecting directly to an Infinity endpoint is to ensure its factory reset, an endpoint that is under AIM control can not be configured directly. This will revert the endpoint to its default IP addresses. The second step is to find a host computer with a network adapter that ideally supports 1Gbit network speeds.
The proceeding information will tell you the default IP addresses that are assigned to each network port, determine which ports are available by endpoint model and their network access speeds. This is followed by an example of how to connect using Windows 7. Whilst the setup procedure may differ on other operating systems, the process is essentially the same.
Default IP Addresses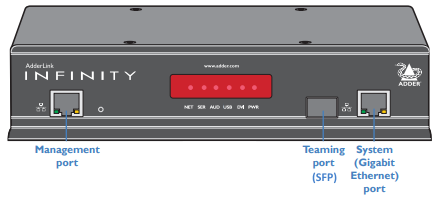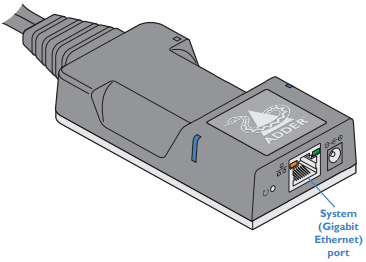 A new or factory reset endpoint are automatically assigned one of the following default IP addresses.
Model
System Port
SFP Port
Management Port
Transmitter(TX)
169.254.1.33
169.254.1.43
192.168.1.42
Receiver(RX)
169.254.1.32
169.254.1.42
192.168.1.42
Available Network Ports
Note
The management port is only available when using the endpoint in a point to point mode. For security, it is disabled if the endpoint is under AIM Control.
Not all Infinity Endpoints have the same network ports, the first generation only had a single network port. The table below shows the network port availability for each model variant.
Model
System Port
SFP Port
Management Port
ALIF1000R & ALIF1000T

✓

✗

✗

ALIF1002R & ALIF1002T

✓

✓

✗

ALIF2000R, ALIF2000T & ALIF2002T

✓

✓

✓

ALIF2020R & ALIF2020T

✓

✓

✓

ALIF2112T

✓

✓

✗

ALIF100T

✓

✗

✗
Network Speed
Each network port has different speed capabilities. When connecting to one of the ports, make sure your host computers network adapter supports the speeds shown.
Model
System Port
SFP Port
Management Port
ALIF1000R & ALIF1000T
10/100/1000 Mbit
N/A
N/A
ALIF1002R &ALIF1002T
1Gbit only
10/100/1000 Mbit
N/A
ALIF2000R &ALIF2000T/ALIF2002T
1Gbit only
10/100/1000 Mbit
10/100 Mbit
ALIF2020R &ALIF2020T
1Gbit only
10/100/1000 Mbit
10/100 Mbit
ALIF2112T
1Gbit only
10/100/1000 Mbit
10/100 Mbit (VNC Only)
ALIF100T
1Gbit only
N/A
N/A
Example Procedure using Windows 7
The following example will show you how to configure a Windows 7 PC to access an Infinity ALIF2000R,
Prerequisites
You will need the following equipment:-
A host computer with a 1Gb network adapter
Windows 7 (or above)
A network cable
Connecting the network cable
Using either a regular straight through or cross-over network cable, connect it from the host computer to the System port on the Infinity Receiver.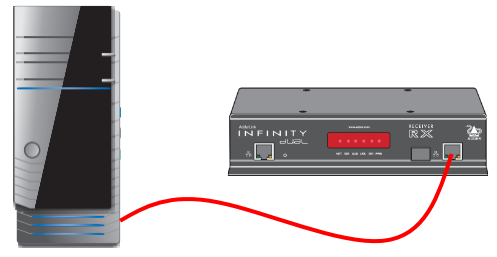 Configuring the network adapter
Open Network Connections by selecting the Start button, and then selecting Control Panel. In the Search box, type adapter, and then, under Network and Sharing Center, select View network connections.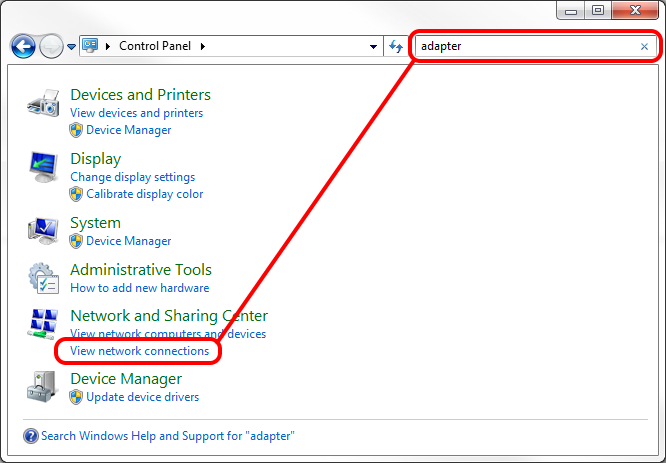 Right-click the network adapter connection that you want to change, and then select Properties. If you're prompted for an administrator password or confirmation, type the password or provide confirmation.
On the Networking tab, select either Internet Protocol Version 4 (TCP/IPv4) in the list and then select Properties.
Before changing any of the settings on the Internet Protocol Version 4 (TCP/IPv4) Properties screen, if you are not familar with networking, make a note of the existing settings so that you can revert back to your previous configuration.
Changing the mode from Obtain an IP address automatically to Use the following IP address.
Enter an IP address in the 169.254.1.x network range. This must not be the same as the endpoints IP address. In the example picture below, I have used 169.254.1.200.
Enter a Subnet Mask of 255.255.0.0.
The gateway address is not required.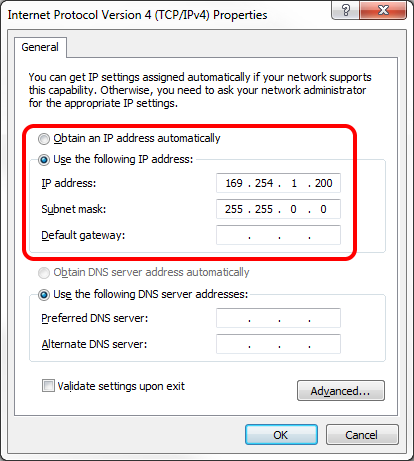 Press the OK button to commit the change.
Open a web browser, in the address bar, type http://169.254.1.32 to open the web interface on the Infinity Receiver
The main web interface will open showing the System Configuration page.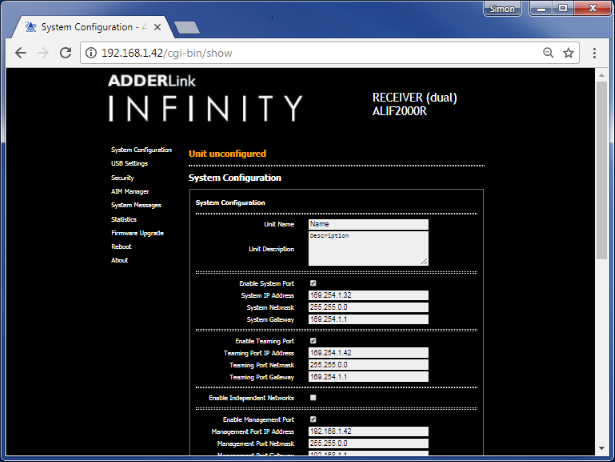 Now that you are connected to the endpoints web interface, you are able to perform a number of configuration functions such as firmware upgrades and network settings.