How to quickly configure your AIM to get up and running with Infinity

This page will be a quick step by step guide on how to setup your AIM so that you can configure it for a basic Infinity installation.
A video is also available for download on the link below that shows you the process:-
Step 1
To start with, AIM is a headless system, you do not need to put a monitor/keyboard/mouse onto the AIM unit. The way to access it is by its web server that is presented on its eth1 connection. Eth1 is the network port highlighted in the image below. (It's the port with the USB 2.0 connectors beneath).
AIM-24:


ASP-001:


You'll need to connect this port to your specified Infinity network, or you could directly connect to it via a laptop or computer for initial configuration.
Step 2
The next step is to access the units web interface. An unconfigured AIM has a default IP address of 169.254.1.3. Make sure that the computer you're using to browse to this IP address is on the same network (you can check this from the network and sharing centre on windows). You can browse to this address on any web browser, we most commonly use chrome. After accessing the web interface you'll be presented with a login page, the default login credentials are:
Username: admin
Password: password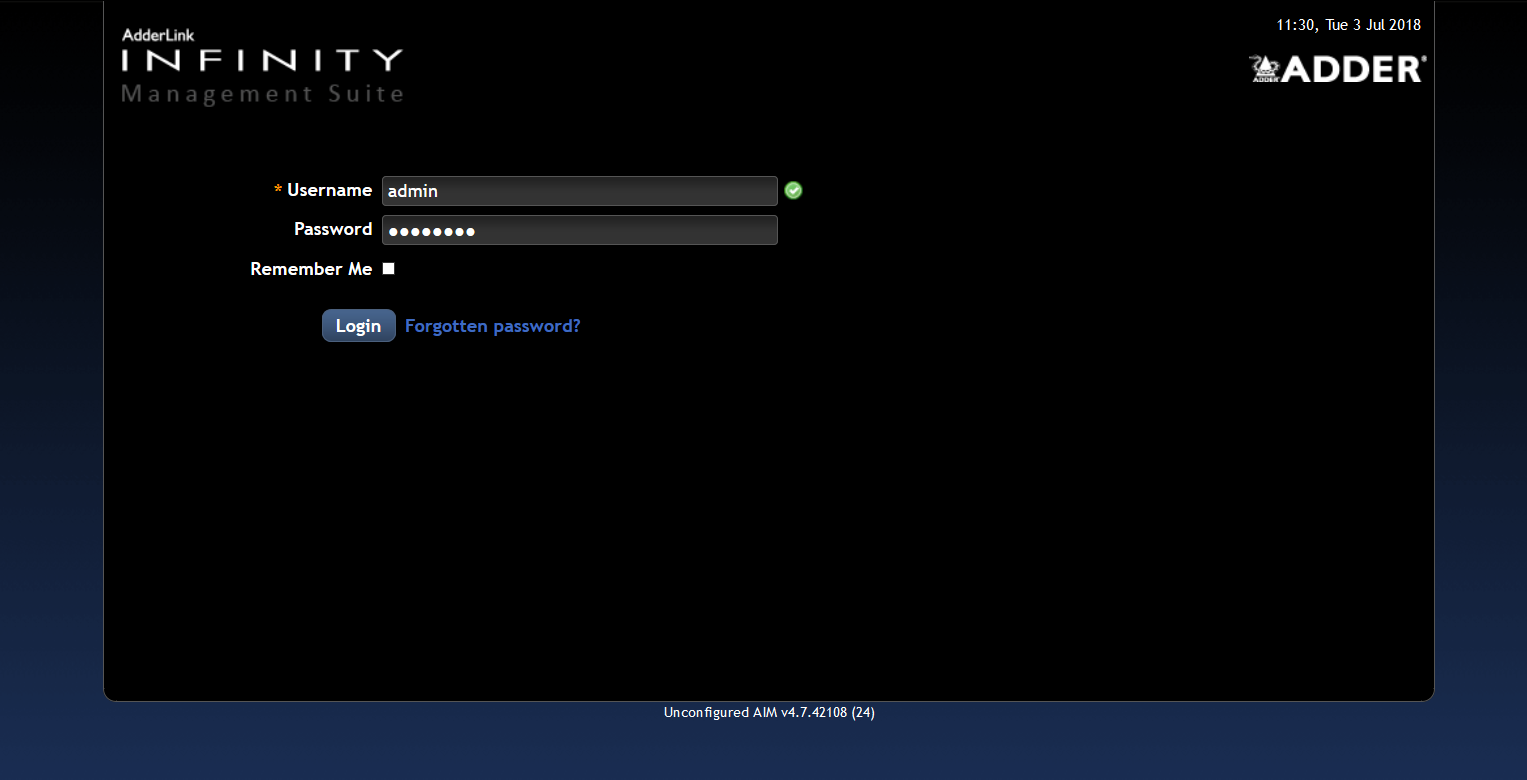 Step 3
Once you've logged on you'll be presented with the page below. We need to configure the AIM so you'll have to click on the configured URL which is highlighted in the image below.

Once you've clicked that you'll be presented with the page below where we are shown the details of your AIM. For the quick start, we're going to configure this AIM as a primary so you just have to select the primary option which is highlighted below.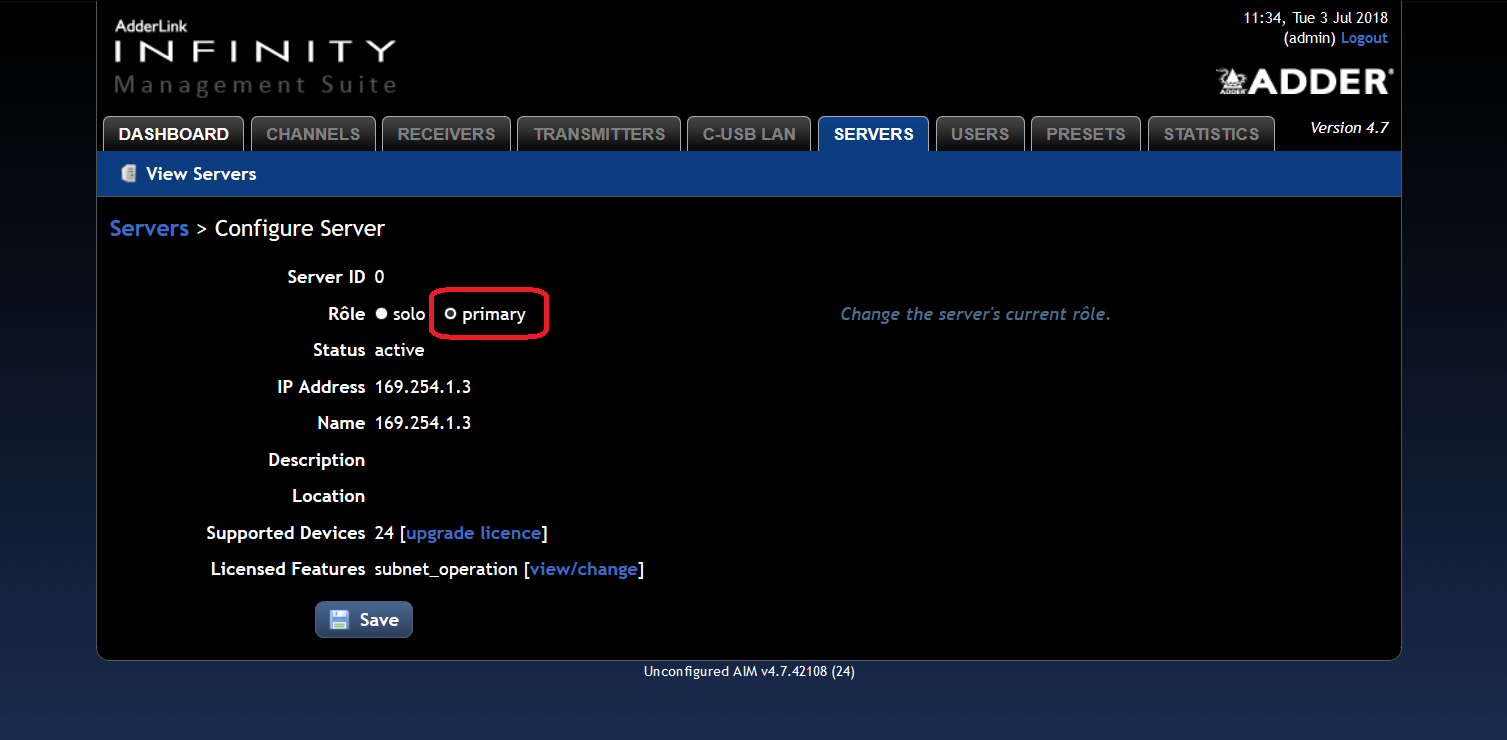 When that's done you can hit save. This will kick off the AIM configuring itself as a primary which will require a reboot of the unit. After it comes back around it will be configured as a primary so will have moved off the 169.254.1.3 IP address which is for unconfigured units and onto 169.254.1.2 which is the default link-local IP address for a configured AIM.
Step 4
The webpage should default to 169.254.1.2 after a short time but if this doesn't happen (which can be the case in some instances), you can navigate to the IP address as usual. You'll then be prompted to log in again which is still the same default credentials.
Username: admin
Password: password
After logging in you'll be presented with the webpage below. This is the initial network configuration page for AIM. Here you'll define what IP address you want your AIM to reside on and other network settings. The most important step at this point is to ensure you select the correct subnet mode operation for your instal. In this quick start (and most installations) we'll set it to OFF. This means that AIM will act as a DHCP server for all of the endpoints we add to the system later.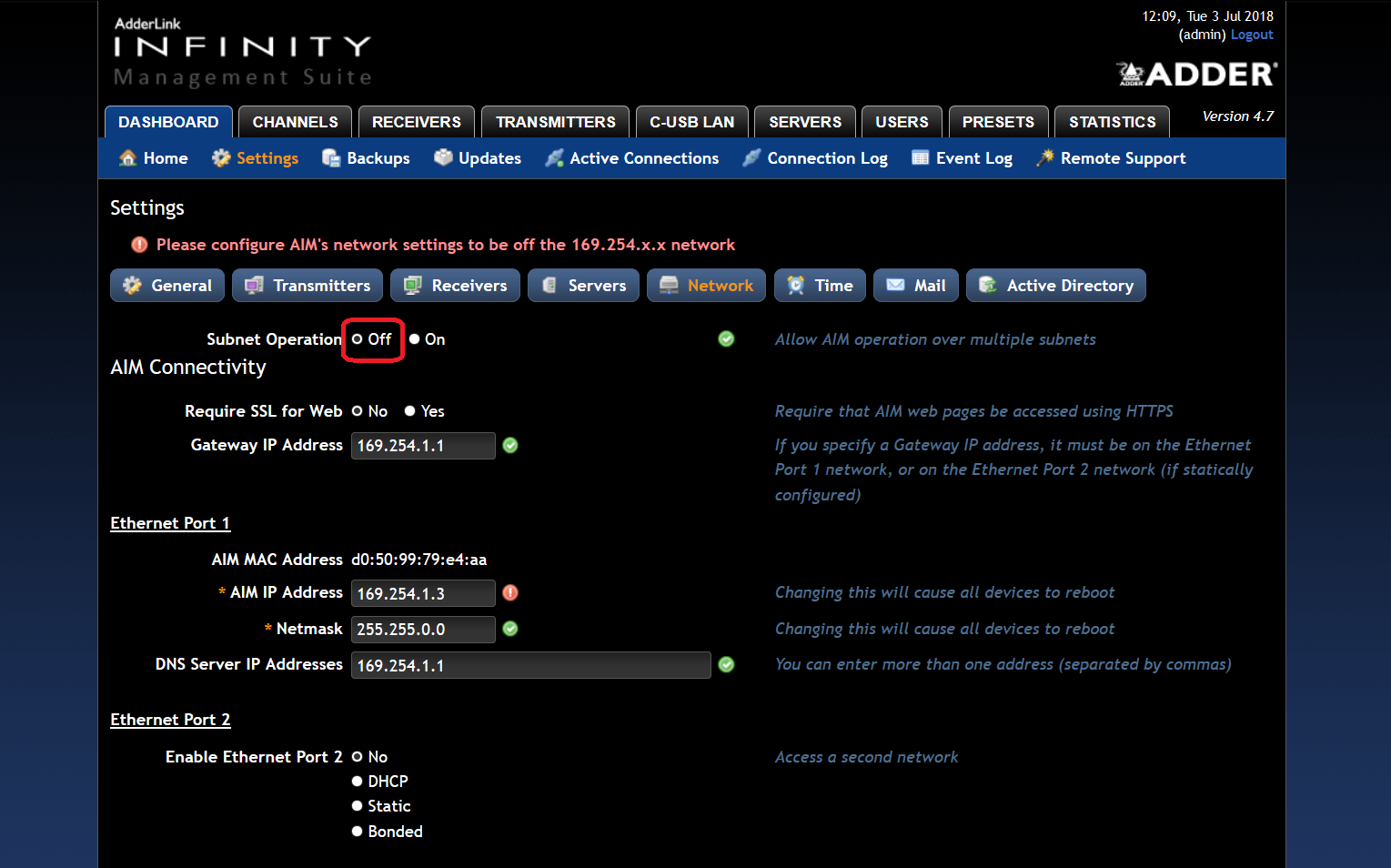 Important
The setting for
subnet operation
can only be set at this point. If you have to change it later it will require a
factory reset
of your AIM.
After we have set the subnet mode we then need to configure the AIMs core network settings off the 169.254.1.x network range. In this example, I've moved it to 192.168.1.x with some example IP addresses but these can be whatever you decide for your Infinity network. It is required to change all three of the highlighted IP addresses and they all must be on the same subnet.
After setting those we need to configure the IP address pool that will be used to assign endpoints their IP addresses from the AIMs DHCP server. You need to ensure that you have sufficient IP addresses available here to cover both your transmitters and receivers. It would be a good idea to have enough addresses to encompass the license you have with your AIM as that should cover your system up to until you start looking at expanding it. This is shown in the screenshot below.
After these settings have been changed you can hit save. This will require another reboot of the AIM to take these new network settings. The webpage should default to the IP address you've configured your AIM to be at but if not you might have to navigate to your AIMs new IP address.
Important
Make sure you're on the same subnet as what you've set your AIM too, this can be checked in your computers network settings.
Step 5
Once you've navigated to your AIMs new IP address you'll be prompted to log in again. This will still be the default credentials. You'll be presented with a settings page for further customizing your system but at this point you are already up and running with your Infinity manager and are ready to start adding endpoints. The rest of the settings are for system specific customization, your core Infinity network is complete.
Username: admin
Password: password
Related Information