Overview
As technology continues to evolve, it is no longer necessary to be in the physical presence of your systems and remote working is available.  Adder has a number of products that make this possible, allowing you to access hosts in the office from home or other locations over the internet. They incorporate RealVNC technology that offers reliable and secure communication. Being external to the host computer, these products enable out of band access to the BIOS, unlike software-only based solutions.
To support the diversity of hosts in the market place, Adder offers a range of remote access products that cater to different requirements, for example, analog or digital video, USB or PS/2 peripherals and local and remote access.
Whilst they are installed and connected to your local network, to gain external remote access across the internet you must configure port forwarding on your internet-facing router. Please read our VNC Port Forwarding guide for further information.
The products can be broken down into two categories, a KVM switch that has built-in VNC support and those that either enables direct access to a host or can be added to a KVM switch to augment its functionality.
Direct Access and KVM Switch Augmentation
KVM Switches with built-in VNC Support
Scope
The main purpose of this guide is to show you some different solutions that you can use to integrate remote access into your systems by the way of scenarios, examples and diagrams.
Scenario 1
Requirement
You have four computers that you would like to access remotely and locally. The computers have a single video output, either DVI and/or HDMI ports and support USB.
Solution
Kit List;
IPEPS-PLUS - Digital Remote server management with HDMI and local feed-through ports.
AV4PRO-DVI - A four-port DVI and USB switch
Method:
Use the AV4PRO-DVI to connect the four host computers, using USB and DVI, giving you the ability to switch to either one. The IPEPS-PLUS is connected to the console output of the AV4PRO-DVI using a passive DVI to HDMI cable for video and a USB cable for keyboard mouse control. For local access, a monitor, keyboard and mouse have been connected to the console ports on the IPEPS-PLUS.
To switch hosts easily on the VNC Viewer, use the host hotkey switching feature. The local user can switch host computers by either press the Computer button on the front of the AV4PRO or using the hotkeys, for example pressing CTRL+ALT+1 to switch to port 1, CTRL+ALT+2 for port 2, etc.

Scenario 2
Requirement
You have 23 computers that must be accessible by two local users and one remote user. The computers use USB and have a single video output, either DVI, DisplayPort, or VGA. The computers are co-located and are within a radius of 10 meters. The two local users are less than 50m away from the host computers.
Solution
Kit List
IPEPS-PLUS - Digital Remote server management with HDMI and local feed-through ports.
DDX30 - 30-port KVM matrix switch for DVI/DisplayPort/VGA, USB and audio
DDX-USR - User Station Receiver
DDX-CAM - Computer Access Module
Method:
Each host computer is attached to a DDX-CAM module (either DVI, DP or VGA), and the modules are attached to the DDX30 switch using shielded CAT6a or CAT7 cable (no longer than 10m). Three DDX-USR stations connect into the DDX30 via shield CAT cable. Two of the DDX-USR's are connected to monitors, keyboards and mice, and the third direct to the IPEPS-PLUS. This allows both local and remote users to switch between any of the computers connected to the DDX30.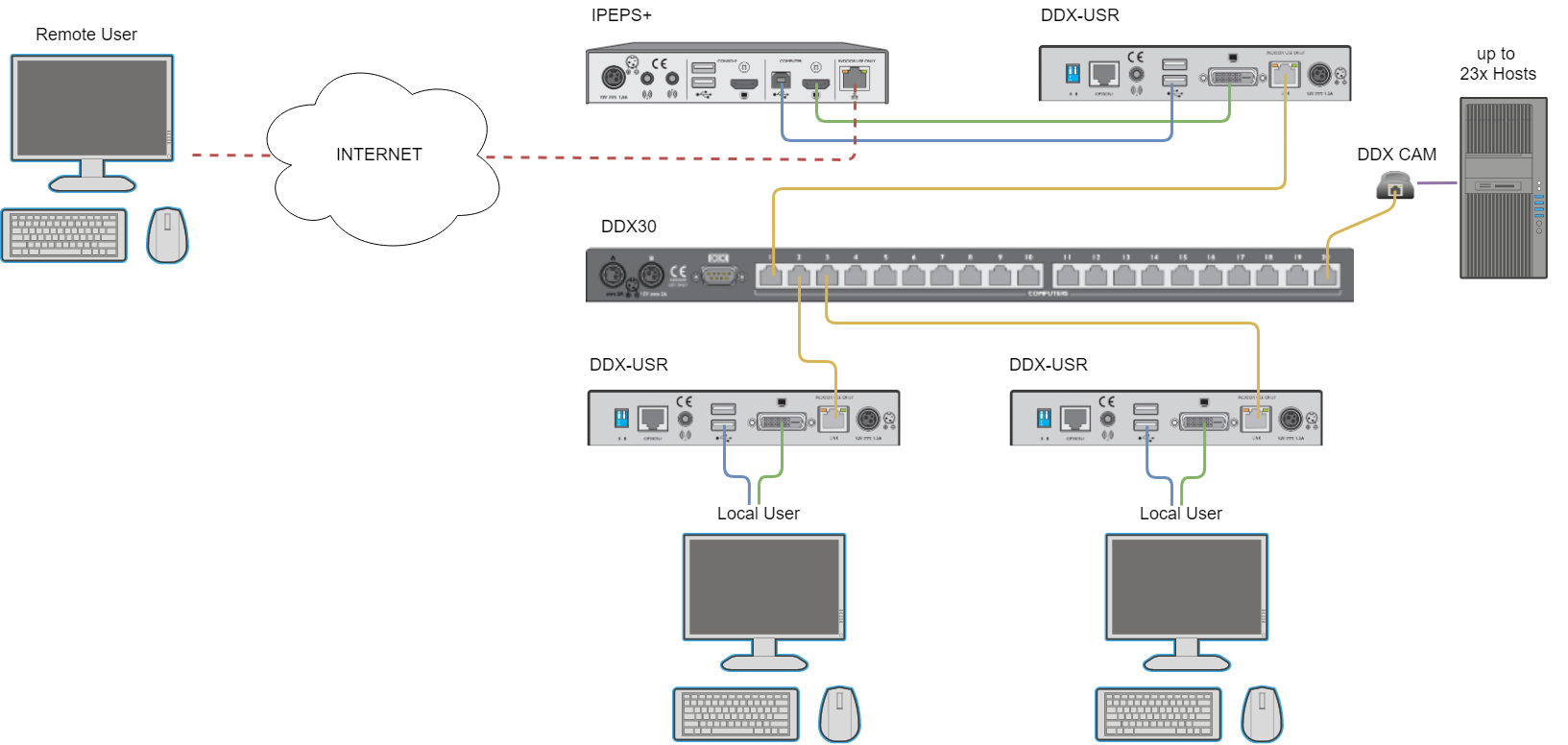 Further Information
Should you need more than one remote user, you can add additional IPEPS-PLUS and DDX-USR units to the switch.
If you had 7 computers rather than 23, you could use the DDX10 instead.
For VNC Absolute Mouse Support, you will need to disable File Transfer on the IPEPS-PLUS.
Scenario 3
Requirement
You have an existing Infinity digital matrix and you would like to have remote access to all the connected hosts, each having a mix of single and dual monitors.
Solution
Kit List
ALIF2112T - A Dual-link, dual head digital video and USB Transmitter with VNC remote access
ALIF2000R - A Dual-link, dual head digital video and USB Receiver.
ALIF2002T - A Dual-link, dual head digital video and USB Transmitter.
AIM-24 - The Manager that enables you to build and control an Infinity digital matrix.
Method:
Connect an ALIF2112T Transmitter and ALIF2000R directly together, but only their DVI and USB ports. The VNC port on the ALIF2112T should be connected to your network that has internet access, Only the ALIF2000R should be connected to the Infinity digital matrix. Whilst remotely connected to the ALIF2112T using a VNC Viewer client, presses the (default) CTRL+ALT+C hotkey combination will allow you to raise the OSD menu, as you would normally do when local accessing an Infinity receiver.