Please find below a download link for a Windows 32-bit .NET Framework 4,0 application for generating DHCP Option 125.
Download: Adder Option 125 v1.01.zip
Disclaimer: This software is provided 'as is' without warranty of any kind, either express or implied, including, but not limited to, the implied warranties of fitness for a purpose.
Instructions:
Download and unzip the Adder Option 125.exe file.
Run the Adder Option 125.exe.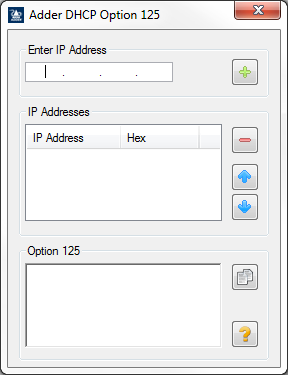 Enter an IP address, for example the IP address of the Primary AIM Manager. It is important to list the IP addresses in their order of priority, for example Primary, Backup, Satellite etc.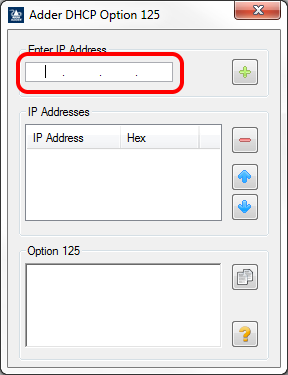 Press the green plus button to add the IP Address.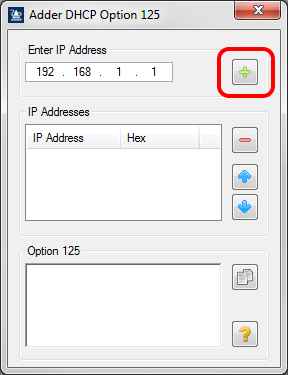 The IP address is added to the IP Addresses list. Continue to add all the AIM Managers on the system. You can use the blue arrows to change the priority of the IP addresses in the list.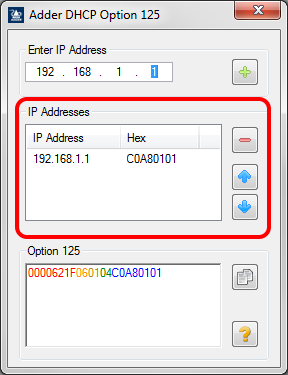 The Option 125 hex code is automatically generated when IP addresses are either added or removed from the list.
To copy the hex code to your clipboard, click on the Copy icon.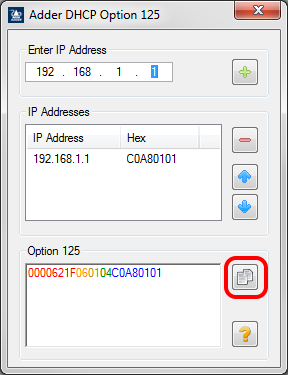 Button Functionality
Button
Description
Adds an IP Address to the list.
Removes an IP address from the list.
Moves Up the selected IP address(s).
Moves Down the selected IP address(s).
Copies the generated Option 125 into your Windows clipboard.